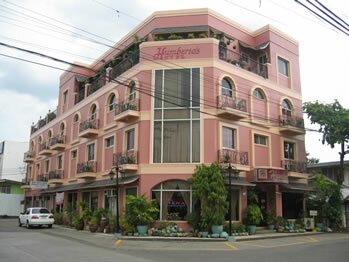 Humberto's hotel is an intimate little hotel in Davao City. What it lacks in size, it makes up in services and accommodations it extends. It is never small in providing the services and attention to details, where nothing seems impossible for our staff, to ensure that the guests are truly delighted and satisfied every time they stay in Davao City. Indeed "A Truly Charming Little Hotel".
Humberto's was conceived with you in mind, deserving a pleasant and comfortable room to settle down after a hectic day in Davao. The guestrooms are delicately designed and pleasingly decorated in pale, subtle & restful tones to ensure a pleasant stay.
Our Deluxe and Suite rooms have been provided with the amenities of the more expensive star hotel, such as an in-house coffee making facility and hair dryer. Be it the Single, Twin, Double or the Suite room accommodation, it boasts of comprehensive room amenities such as: a fully stocked Mini-bar ref, a remote controlled 20'CATV, a telephone, private TBR (w/24-hrs. hot water bath) and air-conditioned. While the Senior Executive Suite has a luxury of room space, fully carpeted, a queen-sized bed, footstool, mini-living set, a separate dressing and bathroom with tub, and an extension phone!
Humberto's has also complete business center facilities, WIFI Hotspot - Wireless high speed Internet connection. Airport transfer and shuttle service can be arranged for the guest's convenience. An authentic Shiatzu massage parlor at the ground floor offers it's guests a convenience of just a finger away. Our Restaurant also at the ground floor serves your Filipino dishes as well as international dishes to satisfy our palate.
Humberto's is so well located in the midst of Davao City's major Banking Business, Teaching Institutions, Entertainment and Shopping Centers and very accessible to public transport, yet without the hassle of the City traffic.
Visit our Webpages and take a look at Davao City's Humberto's Hotel, It's simply different.